We're a Gtechinq Accredited Installer
PAINT PROTECTION OPTIONS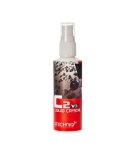 C2 Liquid Crystal
6 months protection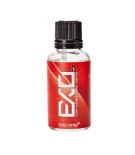 EXO*
18 months protection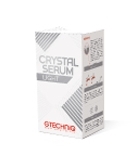 Crystal Serum Light
5 years guarantee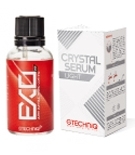 Crystal Serum Light topped with EXO*
5 years guarantee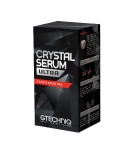 Crystal Serum Ultra
9 years guarantee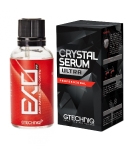 CSU Black – Crystal Serum Ultra topped with EXO*
9 years guarantee
C2
EXO*
CSL
CSL Black
Crystal Serum Ultra
CSU Black
Durability
Ease of application
Slickness
Gloss
Wash swirl resistance
Water/dirt repellency
Chemical resistance
UV resistance

Notes:

The more you invest on protection the longer the results will last
PROTECT YOUR RIMS, GLASS, TRIM LEATHER, FABRIC, DASH, DOOR PANELS AND SOFT TOP
Notes: Pansini Auto Spa Total Surface Protection is exactly that. We have developed ultra-durable, high-performance coatings for every surface of your pride and joy, inside and out. Be it anti-bacterial and anti-stain coatings for all your interior surfaces, or unrivalled rain repellency for your windscreen (typically it lasts an astonishing 20,000 miles), Pansini Auto Spa has it covered.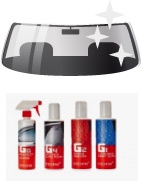 WINDSCREEN AND ALL EXTERIOR GLASS
Deep clean and polish all of your vehicle's exterior glass with Gtechniq G6 Perfect Glass and Gtechniq G4 Nanotech Glass Polish. All glass is then coated with Gtechniq G1 ClearVision Smart Glass.
Notes:
This is one of our best selling treatments. Customers are amazed not only by how long it lasts (typically 20,000 miles on your windscreen), but how much it aids wet weather visibility and maintenance - bugs and ice can be removed much more easily.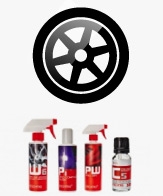 RIMS
Deep clean your car's rims with Gtechniq W6 Iron and General Fallout Remover. They are then degreased with Gtechniq Panel Wipe and coated with Gtechniq C5 Wheel Armour.
Notes:
If you have struggled to remove brake dust that has etched into the lacquer of your rims – you are going to love this treatment. Brake dust is simply jet washed away.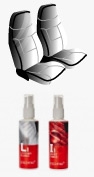 LEATHER OR FABRIC SEATS (INCLUDING ALCANTARA)
Protect your leather seats with Gtechniq L1 Leather Guard or fabric/alcantara seats with Gtechniq I1 Smart Fabric
Notes:
Protecting your car's leather seats will make them abrasion resistant. Not only will your seats be easier to clean and stain resistant, they will also be protected with Biocote® anti-bacterial protection too.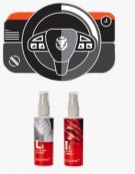 DASH BOARD, DOOR CARDS, CARPETS
Protect your various dash materials (leather, plastics, rubber, vinyl) with Gtechniq C6 Matte Dash and your carpets with Gtechniq I1 Smart Fabric.
Notes:
Add abrasion and UV resistance to all your dash materials and stain resistance to all your interior fabrics. These treatments also incorporate Biocote® anti-bacterial protection to ensure your vehicle's interior remains as hygienic as possible.

TOTAL SURFACE PROTECTION BUNDLES
Not only is the complete bundle 20% more cost effective than buying each treatment individually, we will include an ultra-durable coating for your exhaust tips, callipers, engine bay plastics, head lights and tail lights.
Notes:
Choose this and you will experience the full effect of advanced nano chemical engineering on every surface of your vehicle. This is vehicle protection at its best.
Includes free of charge coatings for these:
Exhaust
Engine plastics
Headlights
Rear lights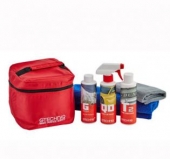 MAINTENANCE KITS: ESSENTIAL MAINTENANCE KIT
The Essential Maintenance Kit contains all of the must-haves you will need to look after your Gtechniq protected car.
The kit contains:
1 x 500ml GWash
1 x 500ml Quick Detailer
1 x 500ml G6 Perfect Glass
1 x 250ml W6 Iron and General Fallout Remover
1 x 250ml T2 Tyre Dressing
1 x 250ml W8 Bug Remover
2 x MF1 ZeroR Microfibre Buff Cloth
1 x MF2 Zero Scratch Microfibre Drying Towel
1 x Large Gtechniq branded kit bag
Notes:
Recommended if you are going to regularly maintain your vehicle. This price represents a 30% saving over purchasing each item individually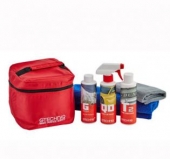 MAINTENANCE KITS: BASIC MAINTENANCE KIT
This stripped down kit contains great quality Gtechniq products that cover the basics of good car care.
The kit contains:
250ml GWash
250ml Quick Detailer
250ml T2 Tyre Dressing
1 x MF2 Zero Scratch Microfibre Drying Towel
2 x MF1 ZeroR Scratch Buff Cloth
1 x Gtechniq Branded Kit Bag
Notes:
Great little kit for those only looking to do minimal diy car care.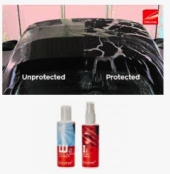 CONVERTIBLE ROOF OPTION
Deep clean your convertible roof with Gtechniq W2 Multi Purpose Cleaner and protect it with Gtechniq I1 Smart Fabric.
Notes:
Even just to have the satisfaction of watching water pearl off your soft-top, this treatment is worth it. The water and stain repellent effect lasts for around a year.